Ariane, how did you decide on the best use of space in your apartment? How have you divided up the three large rooms?
When we moved into this apartment together almost exactly five years ago, we felt a little overwhelmed by the space. We were both used to living in small apartments, myself in a shared flat and my husband in a studio apartment. As a result we didn't have much furniture, so the first thing we had to do once we moved in was decide how to use the rooms.
We had a bit of a reshuffle when our first daughter was born. Later on, when she was one and a half, we converted our cosy, quiet bedroom overlooking the courtyard into a children's room for her. Our bedroom is now a large, lavishly decorated "parent's room" with parquet flooring. We tend to use it during the day, too, as there's also a small desk, a sofa and my record shelf and record player in there.
And how did you organise your living space?
In our living room, we have a big dining table which we built ourselves, with a variety of chairs. There's plenty of space for friends and family. At times we've even had a whole nursery group sat around the table! The table was actually the first new piece of furniture we got for the apartment. We polished and lacquered the wood and built it ourselves, so we're really attached to it. Our favourite thing is cosying up on our comfy sofa with the kids. It's the perfect spot for a midday family nap, for reading to the kids or for a film afternoon on a rainy weekend. And in the evenings, once the kids have gone to bed, we love staying up late watching our favourite series on Netflix.
How would you describe your home's style?
Initially we weren't sure how to decorate the apartment, as we don't really stick to a specific style. We needed the apartment to grow with us as a family and still don't feel like it's finished. But it really feels like home, and it's so much fun to buy new pieces or repaint a wall every so often.
Our decor is a mixture of old and much-loved family treasures, vintage furniture, accessories from eBay classified ads, junk shops and our travels, and, of course, a few carefully chosen new pieces.

What influences your choice of colours, new furniture and accessories?
Up until a couple of years ago I liked to keep everything minimalistic and light. The few pieces of furniture I owned were either white or teak, and my walls were either white or roughly plastered. Over the years, though, I've grown to love slightly bolder colours. I think they make the room feel more atmospheric and cosy. I think that's particularly the case in old Berlin apartments with their 3.5m ceilings. If they're painted pure white they can easily feel too cold and sterile. We painted our living room walls a dark grey-green over two years ago and have never looked back. I really like how our grey velvet sofa contrasts with the green wall, and the sofa cushions shift from bluish to purple depending on the light. We stuck to lighter colours for the bedroom walls. At first glance, you barely notice the colour – it's a warm light grey with a hint of green, and works really well with the white furniture.
Where do you find your inspiration? Do you perhaps have a style icon for your home?
I'm always inspired by old films and photography books from decades gone by, as well as hotels and boutiques in other cities. One of my biggest inspirations this year was our two-month trip through California. After that I really wanted a fiddle leaf fig plant for our home. We put one in our bedroom, and it always reminds me of my dream city, LA.
What changed in your apartment when you had your first daughter? How did you strike a balance between your love of design and a child-friendly home?
Aside from suddenly having a changing table, cot and Moses basket, etc. dotted around our apartment, not much really changed at first. But once our daughter started to sleep through the night, we moved her into her own room, and I had so much fun decorating it. We let her choose things like wall colours and chests of drawers, and we keep making it more and more cosy. I love spending time with the kids in there.
The rest of the apartment hasn't really changed much, because we didn't have any fragile furniture beforehand. But after five years, we needed a new sofa. We'd had our old one for a while and it had seen better days. That's why this time we opted for a sturdier, darker fabric and so far we're really happy with it. The sofa bed function is really useful for when family come to visit. It's so comfortable to sleep on and the bed is really easy to pull out. Otherwise, there were of course a few ornaments on the sideboard and the coffee table that we had to put away, as our youngest loves to "tidy" them for us.
What are your top tips for a cosy living room?
For me, the most important thing is feeling comfortable. There's more to a homely room than just beautiful decor.
And what are your favourite fabrics for winter?
Velvet is always an elegant choice. I think it has a certain charm, especially during the winter months. I love dark blue, forest green and rust-coloured velvet – or wool – it was so difficult to decide on a colour for our sofa! I love combining our grey sofa with colourful, printed cushions I find on holiday and in boutiques. It adds a unique character and stops it looking too "done". We bought our rug in Morocco a couple of years ago, but I might replace it soon with something a little more playful.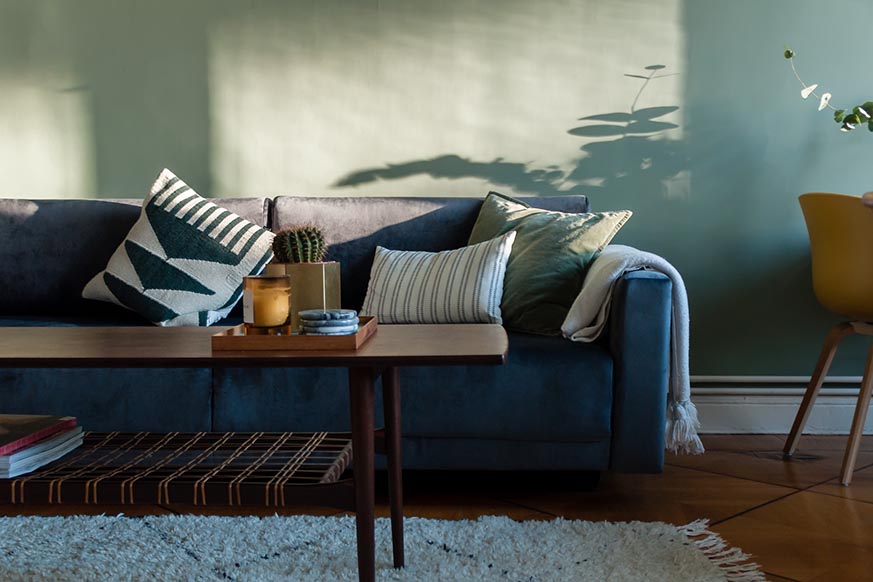 Ariane getting ready for Christmas. Her two little ones love helping with the arts and crafts, too.
What makes the perfect Christmas at home?
Aside from decorating and getting our home ready for Christmas, baking cookies and doing arts and crafts with the kids, it's friends and family that really make it complete. We love hosting people and after the 24th tend to invite not just family but also friends and their children over for brunch or dinner together.
Thanks very much for chatting to us Ariane, and a very Merry Christmas to you and your family!